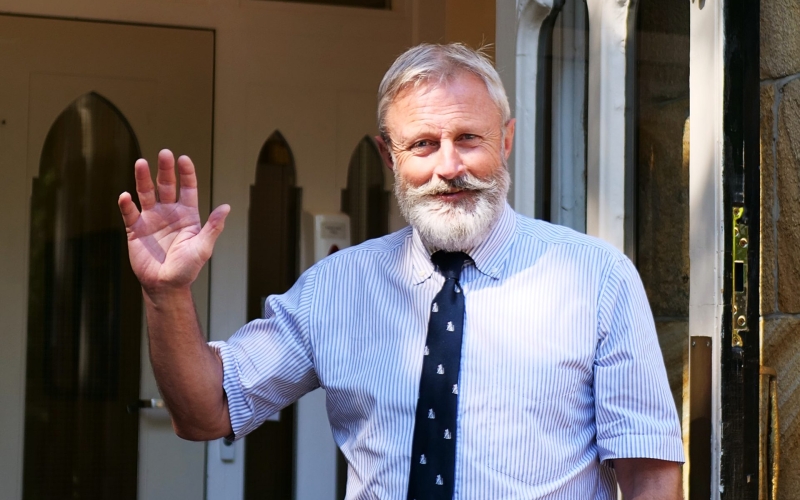 A few words for you all
I've been in this profession for 40 years and nearly half of that as Headmaster at Westbourne School. It has been a life-enriching journey.
I came to Westbourne in 2004 when the school had recently acquired Ashdell House and made the transition from a boys prep school to a co-educational school from Reception to Year 11.
The then Chair of Governors, William Warrack, showed me an aspirational plan for a new hall which had planning permission.  At that time, however, we didn't have the resources to proceed. Unfortunately, William passed away recently, so will never witness the project that we set out to accomplish 18 years ago, now coming to fruition.
I'm truly grateful for the support that I've had from all my 'Chair of Governors' which includes Martin Loxley, Scott Hinchliffe and currently Dorrien Peters.  Without their help, and of course the support of all our Governors, Parents and Staff, Westbourne would not have the reputation it enjoys today.
Over these years I've loved working with some exceptional colleagues and Governors and feel very proud about the progress we've made together.
The children are the reason why we teachers love our jobs and Westbourne has been blessed with some fantastic pupils over the years. One of the biggest joys I shall miss will be celebrating pupils' achievement and watching their faces light up in moments of success.
The last 18 years have been a rollercoaster ride with many changes implemented along the way.  My motto is to embrace change in order to progress, and Westbourne has certainly done that.
However, we must never stand still. As James Kerr wrote in his book, Legacy, citing the New Zealand All Blacks as an example of how to sustain excellence:
"You must continue to embrace change, even when you're at the top of your game, you must change your game and continue to evolve and get better at what you do."
Changes at Westbourne are inevitable and with the appointment of Chris Hattam, as the new Head, a new era dawns for Westbourne.
I thank everyone for their support over the years and wish you all, particularly the pupils, old and new, every success for the future.
In conversation with Mr Hicks:
What achievements have given you the most satisfaction?
Achieving a grading of excellent in all 16 categories of educational quality in the latest Independent Schools Inspectorate (ISI) inspection – you don't get that without a teaching team that are dedicated, take ownership and care passionately about what they do. It was the proudest moment of my teaching career.
What are the most difficult things you have accomplished?
Ensuring the school succeeded through an era of austerity with a double dip recession and a pandemic. This includes:
restructuring the school to facilitate its development. Pupil numbers have gone from 296 in 2004 to a healthy 400 in 2021;
reaching a complete co-educational balance over that same period, going from 16% girls to over 50% in Junior School and 45 % across the whole school.
expanding our facilities in the sought-after suburb of Broomhill to cater for year-on-year growth. The purchase of Ashdell Grove and Westbourne Place, the construction of a new Senior School hall, Garden Studio and most recently, the new whole school development incorporating three new classrooms and a hall for sports and performing arts.
What aspects of your job do you enjoy most?
Seeing pupils fulfil their potential and sharing their successes with delighted parents and staff; passionately selling the 'Westbourne Way' to prospective parents; teaching maths or sport and being with pupils and colleagues for some epic school adventures including Kilimanjaro, Club La Santa in Lanzarote and our legendary ski trips.
How do you see Westbourne's future?
Rosie. School life should be more than just performing in exams, children should be excited to come to school. If they're happy then they're going to learn. The outstanding results of this year's pupil surveys showed that across Junior and Senior School, staff provide an environment where our children are happy and can flourish.
Succession is in place and the school is on a solid financial footing, but more than anything we give children a journey and an adventure that is second to none.
What will be your last message to the pupils?
"Keep hold of Westbourne's school values. Resilience is the key as you move forward and go into your careers, most of these won't have been invented yet. You'll need to be adaptable, strive for excellence, be inclusive and respectful. These things should underpin your professional and personal life – for your wellbeing, happiness and a healthy mindset.


Surround yourself with good people and positive influences. Take responsibility for your own life. Seize every opportunity you can to improve, get better at what you do and make things happen for yourself."
Carpe Diem
John Hicks
Headmaster, Westbourne School 2004-2022